Corn rows, gelled baby hairs and du-rags. Now did I just describe to you a hip-hop video from 2003? or the latest SS15 trends debuted at Fashion month?Quite recently, DKNY is the latest target of Black Twitter following the debut of the hottest hairstyle for next Spring/Summer: Baby hairs and as of Tuesday night, the French powerhouse Chanel has come under quite a bit of scrutiny for the debut of the "Urban Tie Cap" or what me and you would call, a du-rag. To be fair, it hasn't been confirmed that "Urban Fabulous" is the official name of this hairstyle seen on the DKNY catwalks and the du-rag images circulating around the Twitterverse are actually backstage shots of Derek Lam models flattening their hair but nonetheless the issue still remains.
What baby hairs and du-rags have in common is that they have been historically perceived as "ghetto" when really they're just practical and creative approaches to dealing with different hair types. When seeing these images from New York Fashion Week, I couldn't help but notice the double standard that arises when black people have been doing something for years, suddenly becomes acceptable and bold when put on a white body which artist, Jennifer Li perfectly captures in this piece: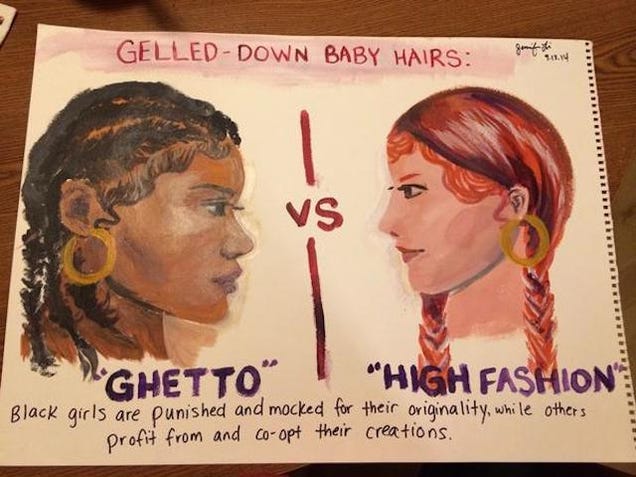 When black people do something its "ghetto" and "unattractive" but the minute white people do the same things, its portrayed as unique and "edgy". Instead of calling everything "Urban", would it kill the world to say that it was inspired by Black culture? Why tip-toe around it when we're all thinking it?
I don't see anything wrong with being inspired by different cultures but it becomes a problem when someone refuses to recognise and acknowledge where these looks originated from. 
XO, TDR
second photo by olivia locher